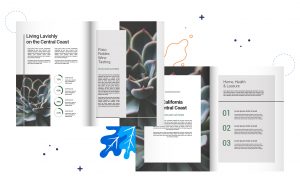 Content marketing through print advertising, or advertorials, is the new wave of storytelling in today's media.
We've seen print advertising conquer the world of marketing for decades, but with a world gone digital, the question begs: is print advertising now a thing of the past?
More people are online, turning to their screens instead of turning pages. In fact, a majority of our clients have scrambled towards digitally marketing their business and neglecting the idea of advertising through print.
For instance, I spoke to the team at a local CSA box program, Talley Farms Fresh Harvest, recently about an integrated marketing campaign that focuses on how their CSA program plays a key role in shifting local families towards a healthier lifestyle. While digital marketing was a huge component in this campaign, we knew that storytelling through print — especially through local magazines — couldn't be neglected.
Think about the last time you got to know a business past its products and services. We're talking about the feel-good stories of their business culture, an educational preview of how their products are made, or even a story on how their business changed a client's life.
Advertising through Advertorials
Content marketing through print advertising, or as we like to call it, "advertorials," is a print marketing channel that is often underestimated.
Advertorials = Advertisement + Editorial Content
Advertorials not only gain business exposure, but it provides target audiences with an inside look on industry expertise. It's personal — not a sales pitch (because we all know how much we love those)!
People love stories; they relate to them, share them, and reflect on them. Advertorials give them a chance to think about businesses on a personal level.
For example, Talley Farms Fresh Harvest wanted to market how their CSA program differs from others. When our team got to know their story on a personal level, we learned that their attention-to-detail in food safety, pre-cooling produce, and working every day to provide the season's freshest produce was unmatched. All of this information is nearly impossible to display in a simple ad, so we worked with them on content marketing through advertorial.
However, content marketing through an advertorial is easier said than done. Here's what an effective advertorial would look like:
1. Hook your prospect into focusing on the desired topic at hand. 
As opposed to a normal ad that would simply sell a product or service, an advertorial goes more in-depth. By strategically content marketing through print advertising, a business can present a consumer's need, as well as the solution to fulfill it. For example, XYZ Construction can demonstrate step-by-step instructions on renovating a bathroom. A reader will realize it's a larger project than they can handle, so they turn to XYZ Construction to do the job for them.
2. Share your business through a story, not a hard sales pitch. 
An advertorial can help a target audience understand a service or product better. It's an opportunity to display a business's credibility in the industry, as well as give an inside look into what the business is about. Consumers are conscious of the way they spend their dollar; advertorials are a way to connect with them on a personal level.
3. Take advantage of the opportunity to take up more real estate in a magazine. 
More space provides more opportunity to leave a lasting impression on a target audience. By strategically content marketing through an advertorial, captivating images, engaging content, and a clear call-to-action gives a business a higher chance at generating a loyal customer.
Final Thoughts
Strong writing abilities are essential in creating an effective advertorial, and we understand how hard it is to carve out time to write! If you're like many of our clients, you know what you want to say, but can't find the time to write the right words. Don't let lack of time stop you from connecting with a larger audience. It's why we offer our unique, interview advertorial service where we interview you (reporter style) and write the advertorial for you. Most interviews take no more than 30 minutes; you'll have a well-crafted story that can be used as an advertorial, content on your website, social media posts, and other marketing channels. It's marketing made simple.
Need help telling your story? Call us today at (805) 543-6397 or email us at admin@simplyclearmarketing.com to schedule a brief consult.